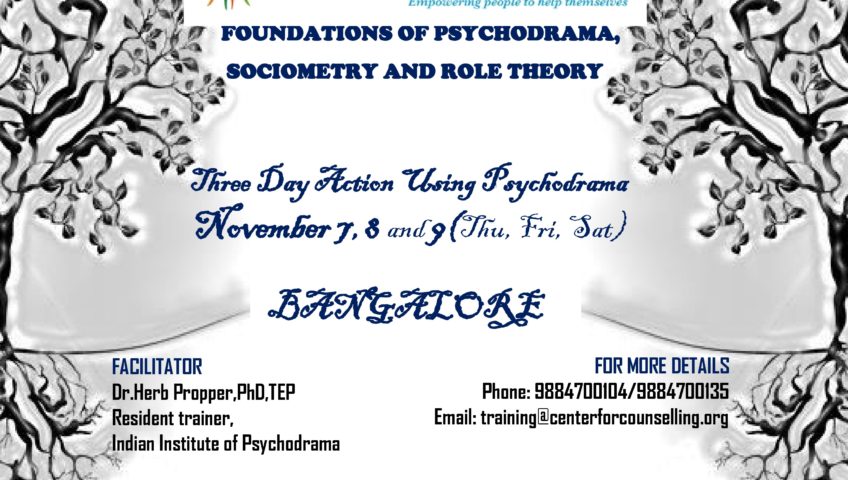 What is psychodrama?
This is essentially a group action method. This could be used in clinical setting(hospitals, therapy centers), non clinical setting like a business establishment in team building, conflict management, stress management, identifying and working with stress, improving communication, building trust, identifying issues etc. This method is a spontaneous and creative method which is used by well trained and certified psychodramtists who are usually called the Psychodrama director. A director enables or facilitates a re enactment of real life situations, past incidents or situations or an inner mental process but acting them out in the present time.
Venue: Bangalore
Dates : 7th, 8th and 9th  (Thursday, Friday and Saturday) November, 2019
Fee: 6000
You will receive a 18 hours of training certificate from Indian Institute of Psychodrama.
For more details Contact 9884700104 / 9884700135
Email : info@indianinstituteofpsychodrama.org
Who should train?
If you are working in a HR team, as a corporate trainer, team leaders, life coaches or mentors, Psychologists/ social workers.This training will give you additional tools to understand your team members better. This training will enable you to build the teams you are working with.
The trainer :
Dr. Herb Propper, PhD, TEP, is a trainer, educator, and practitioner of psychodrama, sociometry and group psychotherapy.
He has 34 years of experience in the field. Herb maintains a part time practice for personal growth, training and supervision. He is a Fellow and life time member of the American Society of Psychodrama and Group Psychotherapy. Herb is an affiliate member of the Bangladesh Clinical psychology Society. Herb serves as faculty member of Indian Institute of Psychodrama, He is Professor Emeritus of Theater at Johnson VT State College, a 2009 Fulbright Scholar to Bangladesh and since 2013, a member of the Fulbright Specialist Roster. He is a practioner of Tibetan Buddhism; a student of Lama Norlha Rinpoche, Abbot of Kagyu Thubten Choling Monastery and Retreat Center in Wappinger's Falls, NY. He is authorized by Lama Norlha to teach basic meditation practices.