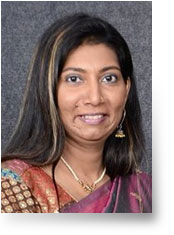 "To serve as an essential resource for individuals and individuals who seek assistance with developmental concerns. We provide short-term, culturally sensitive counselling, training, consultation, and other collaborative and programmatic services."
Magdalene is a board certified psychodramatist. She is the first Indian Psychodramatist to be trained in India. She started her training in 2009 and was certified in October 2016 by the Australia Aotearoa (New Zealand) board of psychodrama through the Psychodrama Institute of Melbourne. She has been elected into the board of Directors of International Association of Group Psychotherapy and Group Processes.
Her teachers included Dr Herb Propper (USA), Sue Daniel(Australia), Dr Jorge Burmiester(Spain/ Switzerland), Saphira Linden(USA) and Donna Little(Canada). Magdalene also founded the Indian Institute of Psychodrama in 2013 in order to pave the way for others in India to be trained and certified within the Indian borders. She has completed more than 25 years in working as a counsellor/ therapist without a break in her career.
She enjoys teaching, art and food.
PROFESSIONAL EXPERIENCE
Aug 1994 – Dec 2004
Counsellor, Substance Abuse Treatment Centre, TT
Ranganathan Research Foundation
Jan 2001 – Aug 2003
Coordinator, Counselling Services SIAAP
Sept 2003 – Feb 2004
Project Director, Health First
Mar 2004 – Dec 2004
Counselling Trainer
Dec 2004 – Feb 2005
Director – Training and Counselling, SAATHII
Oct 2005 – Jan 2007
Counselling Consultant – Tamil Nadu State AIDS Control
 
Society supported by UNICEF
Feb 2005 – July 2007
Consultant on various projects 
 
Family Health International
WHO – SEARO
Ministry of Health – Bhutan
Ministry of Health – Myanmar
APAC – VHS (USAID Project)
Action Aid International
 Jan 2007 – Current
Counsellor / Counselling Supervisor / Psychodramatist
 
Founder Director – East West Center for Counselling and Training
June 2013 – Current
Founder Director – Indian Institute of Psychodrama
  Experience in working with Organisations on projects
Colombo Plan, Sri Lanka
National AIDS Control Organisation – TANSACS, APSACS, KSACS
UNICEF, Chennai
World Health Organisation – South East Asia Region
APAC -VHS, Chennai
ILO
Family Health International – Delhi, Mumbai & Chennai
Action Aid International (Tsunami project)
Center for Disease Control
  Experience in working with the following Governments
Ministry of Health, Bhutan
Ministry of Health, Thailand
Ministry of Health, Myanmar
  PRESENTATIONS
Situation Analysis study which was documented and made into a CD as IEC tool on Babies and AIDS. Oral Presentation of the same in the ICCAP, in Melbourne, Australia in 2001
Chair person in a session on Coping with HIV – Health Care professionals in the Tamil Nadu Dr. MGR Medical University International Conference in Chennai, 2003
Presented a paper on 'Nurse as a Counsellor, at the Tamil Nadu Dr. MGR Medical University Conference in 2004
Chaired and presented on Faith and Sexuality Conference at an International Conference held at Asha Nivas in 2009
Conducted Two Expressive Arts Therapy workshop on the Psychological Aspects of Aging at the 15th Annual Conference of Catholic Psychologists of India, held in Pala, Kerala in 2014
Spoke on 'Psychodrama – For Stress Release" at the National Seminar on Stress and Resilience: In Children, Adolescence, Women and Social Supports Groups in Rajahmundry, 2014
Spoke on 'Psychodrama: Reducing Stress and Increasing Resilience' at the International Seminar on Stress and Resilience Techniques in Rajahmundry, 2014
Spoke on Indian Cultural Contexts Around Therapy and Around Using the Arts for Therapy at the International Conference on 'Contextualizing Cultural Heritage in Literatures' in Salem, 2015
Spoke on the 'Clinical Use of Psychodrama' at the International Conference on Contemporary Trends in the Effective Practice of Counselling, MGR Janaki College of Arts and Science for Women in Chennai, 2015
  Work in Tamil Nadu, India
Experience in training of Integrated Counselling and testing centres (ICTC) teams for HIV counselling in almost all districts of Tamil Nadu.
Counselling and setting up of counselling supervision services of ICTC in TN in 2001-2003
Conducting a Situation Analysis study in 4 districts in Tamil Nadu along with the Macfarlane Burnette institute for Medical Research, Melbourne, Australia – 2001
Involved in making a documentary on "Babies and AIDS" which is now shown in all PPTCT sites in Tamil Nadu
Recruitment of the first batch of counsellors into the ICTC sites for the Tamil Nadu State AIDS Control Society – 2001
Training of counsellors before they joined the ICTC sites in TN
Involved in starting a newsletter for counsellors in TN in 2003
Work in different parts of India
Consultant for the NACO – TOT training module for ICTC counsellors
Developing of Counselling aids like flip charts, checklists for the counselling sessions
Developed guidelines for counsellors working in STI clinics for Family Health International, Mumbai
Review of Follow up counselling modules developed by Indiaclen – Center for Disease Control(CDC)
Writing a facilitators guide for Project Concern International
Consultant on Sexual Harassment team in various organizations
Board President for Sangama, an organization that works with sexual minorities and sex-workers
Work in Asia
Developed the national guidelines for Voluntary counselling and testing centres (VCTC) for the ministry of health in Bhutan funded by the world bank
Developed VCTC counsellors training curriculum and conducted the counsellors training for Bhutan
Completed inter country training of counsellors in VCTC and the TOT for the World Health Organisation (WHO – SEARO) and UNICEF from 2003 to 2005 held in Thailand and Myanmar
Completed inter country training of counsellors for FHI and UNICEF, 2005 in Thailand
Review of VCTC guidelines for Ministry of Health, Myanmar; WHO consultancy
Counselling Training & Module development Experience (1996 -2019)
Training of women counsellors from S E Asia and the Pacific for Colombo Plan, Sri Lanka on Counselling in substance abuse in TTK hospital, Chennai, 1996
Training counsellors in the diploma course in Counselling for HIV/STI this is in affiliation to the Netherlands Stitching Gestalt Foundation (NSG) and SIAAP for the state of Andhra Pradesh, Karnataka and Tamil Nadu, 2001
Training supervisors in supervision skills (for counselling supervision) in affiliation to the Central School of Counselling training, UK. 2002
Training teams for the Tamil Nadu State AIDS Control Society in counselling issues related to Voluntary Confidential Counselling and Testing Centres and Prevention of parent to child transmission of HIV projects for all the district headquarters hospitals and medical colleges in the state of Tamil Nadu 2002/ 2003
Training managers, supervisors (Employee Assistance Programme) in industries on the workplace prevention of substance abuse programmes as part of the ILO project, 1995-2000
Training post graduate students from Social work, psychology and Counselling as part of their field work curriculum 1996 – 2004 (MSSW, WCC, Stella Maris, MCC, Loyola college)
Training NGOs that are funded by TN State AIDS Control Society and Chennai AIDS Prevention And Control Society (CAPACS) in counselling 2001 – 2003
Consultant for the counselling training programme for AIDS Prevention and Control Society APAC-VHS, US Aided project
Developing and delivering an advanced counselling training programme for the counsellors in the states of Tamil Nadu, Karnataka and Andhra Pradesh 2001 – 2003
Training module preparation for community workers, health workers etc for APAC-VHS, US Aided project in 2003
Resource person for the city college intervention project of APAC – VHS, US Aided project through the Madras University 2003 to 2005
Capacity building workshop for SLANA, centre for treatment of addiction in Colombo, Sri Lanka in 2004
Training of counsellors for the Psycho social rehabilitation programme for tsunami affected regions in Tamil Nadu for Action Aid International in 2004 and 2005
Developing counselling training modules and training counsellors for the Ministry of Health, Government of Bhutan in 2005
Training and developing counselling aids for Counsellors in Tamil Nadu State AIDS Control Society (TANSACS) Oct 2005 to Jan 2007
Training counsellors working in Government Hospital Tambaram, on Follow up counselling for Indian Network of Positive people (INP+) and Center for Disease Control (CDC) ongoing project to end in Oct 2007
Training Peer Counsellors for Indian Network of Positive people (INP+) for all the districts of Tamil Nadu
Peer counselling training (LGBT community) in collaboration with Shakti Center funded by LLH Norway Nov 2009 to Jan 2010.
Developed and delivered the Counselling skills certificate course in Stella Maris College – 2011 and 2012
Developed 3 modules on – Sexual reproductive Health, Sexual minorities and Basic counselling for tele counsellors for APAC Feb 2011
I have developed several training manuals for various organisations -WHO, FHI, APAC
I have developed several 4 day training modules for counsellors and therapists which we deliver through East West Center for Counselling and Training
Collaborating with Women's Christian College we have developed a one year diploma course in Expressive Arts Therapy, the first college course on arts therapy in India
Collaborating with Tata Institute of Social Sciences, Mumbai on an advanced Post graduate two year diploma course(Part time) since 2019.
Projects currently involved:
Planning and organising the Annual international conferences in Expressive Arts Therapy.
Founding and collaborating on an association of Expressive arts therapists in India.
Collaborating with colleges and universities on certificate courses on Psychodrama or Expressive Arts therapy or Counselling
Developing Storytelling therapy modules along with the World Storytelling Institute
Expressive Art therapy diploma certificate(one year) course in Women's Christian College since 2011
Advanced Post graduate diploma course in psychodrama in collaboration with Tata Institute of Social Sciences(TISS), Mumbai
Setting of board of examiners for all Psychodrama training institutions in India to certify Indians trained in Psychodrama.
Completing doctoral study on Expressive Arts – Group Psychotherapy.
Professional Organizations Memberships
Founding member of Indian Academy of Supervisors
Co – founder of Expressive Arts Therapy Association of India
International committee member of American Society of Group Psychotherapy and Psychodrama
Nominated member of the Academic Council of Women's Christian College since 2018.
Co – Chairperson for the membership committee of International Association of Group Psychotherapy and Group Processes.
International Conferences
 Presented the India Project which is supported by International Association of Group Psychotherapy and Group Processes  and chaired a session in the 2nd IAGP International Research Congress that happened in Thessaloniki, Greece. The congress happened from 14th to 17th June, 2019 and was themed "Trauma and Crisis". There was also a presentation made on "Dreams and Trauma" which was pertinent to the theme of the congress.
Conducted a workshop in 2nd IAGP International Psychodrama Conference & 8th International Psychodrama Congress that happened in Iseo, Italy on the 5th of September, 2019. The theme of the conference was "Who shall survive?" and the workshop was on "Using Psychodrama with LGBTQI community in India". There was another presentation made on "Breaking gangs using sociometry in a prison setting".
Brief Profile:
Magdalene Jeyarathnam is an expressive arts therapist and a board certified Psychodramatist working with individuals, couples and groups including family groups in India. Magdalene has more than 25 years of experience in working with addiction, HIV/AIDS and mental health issues, she has worked with several state and central government agencies in India, She has also worked with UNICEF and WHO as consultant on projects. She is the founder of East West Center for Counselling which is an Expressive arts therapy center providing therapy services to schools, universities and organizations; She also founded the Indian Institute of psychodrama which is the first psychodrama training institute in India. She is one of the founding members of the Indian academy of professional supervisors; she is also on the board of directors of the International Association of Group Psychotherapy and group Processes. She is a co-founder of Expressive Arts therapy Association of India. She is currently pursuing her doctoral study.
---
Magdalene Jeyarathnam
Mobile : +91 9884700135
magdalene@centerforcounselling.org
http://www.centerforcounselling.blogspot.com