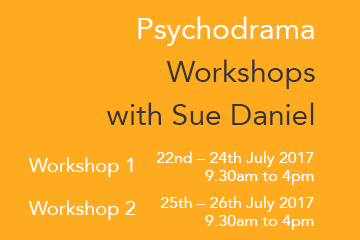 Workshop 1
Dates: 22nd – 24th July 2017
Time: 9.30am to 4pm
Workshop 2
Dates: 25th – 26th July 2017
Time: 9.30am to 4pm
Workshop fees: INR 5000
Email: info@centerforcounselling.org
For more information Contact: 9884700135 / 044 42080810
For Registration click here
What is Psychodrama?
Psychodrama is an active and creative therapeutic approach that uses guided drama and role playing to work through problems. Psychodrama can be effective individually or in a group (sociodrama), and is sometimes offered in mental health programs, schools and businesses.
About Sue Daniel
Sue Daniel, BA, DipT, MApS, TEP, is a psychodramatist and psychotherapist in private practice in Melbourne, Australia. She directs the Psychodrama Institute of Melbourne, Sue is an International Trainer, Educator and Practitioner of Psychodrama (TEP), one of the principal trainers working with the Indian Institute of Psychodrama.