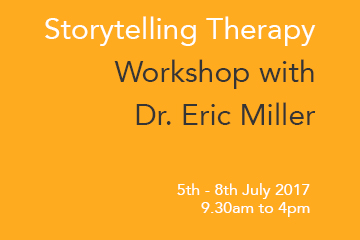 Dates: 10th – 12th July 2017
Time: 9.30am to 4pm
Workshop fees: INR 6000
Email: info@centerforcounselling.org
For more information Contact: 9884700135 / 044 42080810
For Registration click here
What is Storytelling Therapy?
It is, using stories and storytelling therapeutically. This can be done in a variety of ways. I would propose that "Storytelling Therapy" might serve as an umbrella term for all forms of therapy that utilise Narrative Psychology and story/narrative — with or without consideration of the psychological and social processes of the client telling stories to at least one other person.
About Dr. Eric Miller
Dr. Eric Miller is a native New Yorker, transplanted to Chennai. In NYC, he studied with and worked for professional storyteller Laura Simms. He completed a PhD in Folklore at the University of Pennsylvania
(Philadelphia). In 2007 in Chennai, Eric
co-founded the World Storytelling Institute, which he directs.